"
Yes Ty, I do think I have met the right guy. I just didn't know it at the time
"

— Tinka in Future it up
Future it up
Season 3, Episode 20

Vital statistics

Air date
July 28th,2013
Written by
TBA
Directed by
TBA

Episode guide

Previous
Next
Pysch it up
Oui Oui it up
Plot
It's 22 years in the future and the groups' 20th high school reunion is just a day away. Dina and Deuce are happily married and expecting another baby, and while Rocky and CeCe have successful careers, they fell out of touch years ago. Dina wants them to dance together at the party for old times' sake, but they can't seem to agree on anything. Meanwhile, Ty and Tinka realize they may have missed out on something special in high school – each other.
Detailed Plot
Detailed Plot to be added later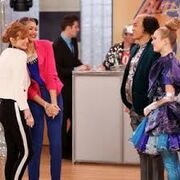 Main Characters
Zendaya Coleman as Rocky Blue
Bella Thorne as Cece Jones
Caroline Sunshine as Tinka Hessenheffer
Roshon Fegan as Ty Blue
Davis Cleveland as L.J (Cece and Logan's Son)
Recurring or Guest Charcters
Adam Irigoyen as Deuce Martinez
Ainsley Bailey as Dina Garcia
Leo Howard as Logan Hunter (Cece's Husband)
Trivia
This Will be part of Disney's FlashForward Weekend
This is a possible fantasy episode that may not be in the official storyline.
Ty and Tinka had a conversation about marriage.
Ty was about to ask Tinka a question that caused a specualtion that he might have asked her to marry him or date him when it was interrupted by a phone call.
Tinka in the future is a successful business woman of her own clothing line "TinkaWear".
Ty asked Tinka to Marry him and Tinka replied yes.
Ty and Tinka were holding hands.
At one point Tinka was feeding Ty.
Ty stood up to his boss Flynn when Flynn's phone call interrupted Ty when he was going to ask Tinka to Marry him.
Featured Songs
Future Sounds Like us-Dove Cameron
Shake it up Theme Song-Selena Gomez 
Dialouge From Episode
Ty:20 Years,and Your still pretty as ever.
Tinka: You thought I was pretty in High School? I mean, I thought I was pretty but I didn't know you did.
Ty: I'm surprised you didn't marry.
Tinka: Well sometimes I wonder if there's anyone out there for me.
Ty:You ever wonder that you've already met the right person,and you didn't know it at the time.(Phone Rings) I have to get this,It's Flynn.Hey Flynn,Yea--
Tinka:(Takes Phone and puts it away)You were saying? (Smiles Widely)
Ty:(Other Phone Rings) You didn't think Flynn would let me have just one phone did you?(To Flynn) Hey Flynn...(Walks away)

Tinka:Yes Ty,I do think I have met the right guy,I just didn't know It at the time.
Ty: Hey Tinka, so I was thinking...
Tinka: So was I, we've known each other a long time and...
Ty: Yeah, yeah and neither one of us is...(Married)
Tinka: No, we're not...
Ty: So I was wondering if maybe you would wanna...
Tinka: Yes Ty,

Ty: (Phone Rings)*sighs* Yes Flynn...
Ty talking on the phone to Flynn: What?! You want me to drop everything off and fly to San Diego right now?
Tinka to Ty: It was nice seeing you Ty. (Sadly Walks Away)
Ty: (Grabs Tinka by the arm) Hey Hang on.
Ty talking to Flynn: You know what little big man I'm not gonna do it. In fact I'm taking some time off whether you like it or not cuz I'm getting Married.
Ty to Tinka: You do wanna marry me right?
Tinka: I'd love too! But can we go on a trial date first and see how it goes?

Ty: Works for me!
Videos
Polls
When Ty asked Tinka to marry him what was your reaction?
If you were Rocky or Cece what would the dance choice be for the reunion dance?