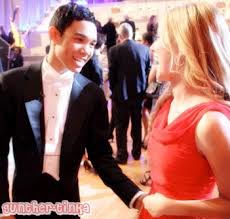 Roshonoline is the real life paring of Roshon Fegan and Caroline Sunshine.
Roshon Fegan
Roshon Bernard Fegan was born on October 6,1991. Roshon Fegan is known in Los Angeles as a rising young Hip-Hop/Pop artist, producer and songwriter. The young teen writes and produces all of his own music under his owned record label, 3inaRo Records.
Caroline Sunshine
Caroline Allison Sunshine was born September 5, 1995, in Atlanta, Georgia to parents Thom and Karen Sunshine. She has two younger brothers, John (born in 1997) and Christopher (born in 2000). Sunshine was raised in Orange County, California, and began studying ballet at the age of 3. In kindergarten she landed her first lead role playing Goldilocks in a classroom play, then acted with the Orange County Children's Theater, and danced competitively with the South Coast Performing Arts studio in Tustin, California. Sunshine's stage credits include Annie Warbucks at the Orange County Children's Theatre, The Nutcracker at the Academy of Dance and South Coast Performing Arts, and Stage Door at the Lutheran High School of Orange County.- http://carolinesunshine.com/bio/ 
Tynka Moments
>Ty asked Tinka out on a date
Ty said that Tinka was a "Wackjob" with good hair.
Tinka admitted to Ty that it was a perfect date.
They danced together and enjoyed the date.
Ty seemed happy when he mistakenly though Tinka was his secret admirer.
Ty wanted to go out on another date with Tinka.
Ty and Tinka chose to dance togther for the re-audition for the spot on Shake it up chicago.
Ty and Tinka hugged each other tightly when Tinka was in the show.
What is your favorite Tynka Episode?
Roshonoline Trivia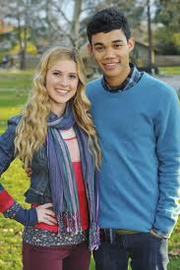 Roshon and Caroline have been in the friends for change together.
The two have done many commercials together.
They both are in the music and acting business.
Caroline Sunshine's favorite episode that they acted was "Add it up"
They both sometimes have signings together.
Roshon and Caroline are good friends.
They both know about Tynka.
How much do you ship Roshonaline?
</